AGS Movers Barcelona
Manager: Antonio GONZALEZ
Passer Movers - Carrer de la Farigola, 12 P.I. Castellbisbal Castellbisbal Barcelona 08755
Idiomas en los que puede ser atendido
Mudanzas Internacionales en Barcelona
AGS Movers Barcelona es su empresa de confianza en materia de movilidad internacional, ofrecemos servicios de mudanzas y guardamuebles personalizados e innovadores tanto para clientes privados como para empresas. La experiencia de AGS Movers Barcelona garantiza que su mudanza sea profesional e impecable con independencia del destino al que se traslade.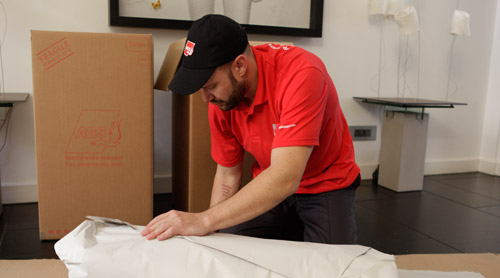 AGS Movers Barcelona no solo disfruta de las ventajas de pertenecer a uno de los grupos empresariales más destacados del sector de la movilidad internacional, con 147 delegaciones en 100 países, sino también de su experiencia y saber hacer.
AGS Movers Barcelona asegura la profesionalidad y el cumplimiento de unos estándares de calidad internacionales y ofrece a sus clientes su experiencia inigualable en mudanzas y servicios de guardamuebles.
Obtener presupuesto gratuito
Domestic & International Removals Solutions
AGS International Movers offers excellence to each of its clients.
Quality Standards
Certificación y afiliaciones
AGS Movers Barcelona garantiza la calidad absoluta en el servicio a sus clientes. Durante más de cuarenta años, el Grupo AGS ha establecido a lo largo de su red internacional unos estrictos procedimientos de calidad que se ponen en práctica en todas nuestras delegaciones. Estas prácticas se derivan de estándares de calidad generales, pero también de los estándares establecidos por los organismos de certificación más prestigiosos en el sector de las mudanzas.
Estos altos estándares de calidad aseguran que, ya sea que se mude hacia o desde Madrid, el Grupo AGS se compromete a brindarle lo mejor en servicios de mudanzas y guardamuebles.