AGS Movers Madrid
Manager: Antonio GONZALEZ
C/ Mario Roso de Luna, 29 - Nave 11 Pol. Ind. Fin de Semana Madrid Spain 28022
Idiomas en los que puede ser atendido
Mudanzas Internacionales en Madrid
AGS Movers Madrid es su empresa de confianza en materia de movilidad internacional, ofrecemos servicios de mudanzas y guardamuebles personalizados e innovadores tanto para clientes privados como para empresas. La experiencia de AGS Movers Madrid garantiza que su mudanza sea profesional e impecable con independencia del destino al que se traslade.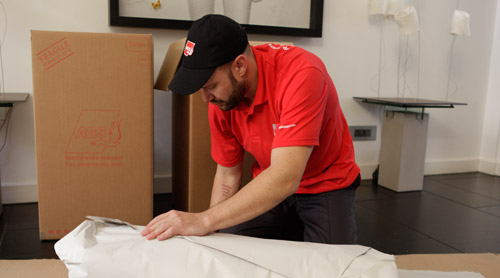 Constituido en 1992, AGS Movers Madrid cuenta con 31 años de experiencia en el sector de las mudanzas.
AGS Movers Madrid no solo disfruta de las ventajas de pertenecer a uno de los grupos empresariales más destacados del sector de la movilidad internacional, con 146 delegaciones en 99 países, sino también de su experiencia y saber hacer.
AGS Movers Madrid asegura la profesionalidad y el cumplimiento de unos estándares de calidad internacionales y ofrece a sus clientes su experiencia inigualable en mudanzas y servicios de guardamuebles.
Obtener presupuesto gratuito
Domestic & International Removals Solutions
AGS International Movers offers excellence to each of its clients.
Más sobre AGS Movers Madrid

1445 m2

de Guardamuebles

1000

Operaciones anuales
---
---
Quality Standards
Certificación y afiliaciones
AGS Movers Madrid garantiza la calidad absoluta en el servicio a sus clientes. Durante más de cuarenta años, el Grupo AGS ha establecido a lo largo de su red internacional unos estrictos procedimientos de calidad que se ponen en práctica en todas nuestras delegaciones. Estas prácticas se derivan de estándares de calidad generales, pero también de los estándares establecidos por los organismos de certificación más prestigiosos en el sector de las mudanzas.
Estos altos estándares de calidad aseguran que, ya sea que se mude hacia o desde Madrid, el Grupo AGS se compromete a brindarle lo mejor en servicios de mudanzas y guardamuebles.
POLÍTICA DE PRIVACIDAD
AGS MUDANZAS INTERNACIONALES, S.L. posee el dominio y las páginas de Internet a los que se accede desde www.agsmovers.es, y los demás registrados a su nombre.
En cumplimiento del artículo 10 de la Ley 34/2002 de 11 de julio, Servicios de la Sociedad de la Información y del Comercio Electrónico, informamos que AGS MUDANZAS INTERNACIONALES, SL es una mercantil situada en Madrid, calle Mario Roso de Luna nº 29 nave 11 Polígono Industrial Fin de Semana; inscrita en el Registro Mercantil de Madrid, Tomo (6998), Folio (69), Hoja (M-113807), Inscripción 1ª y con CIF nº B-80.693.468.